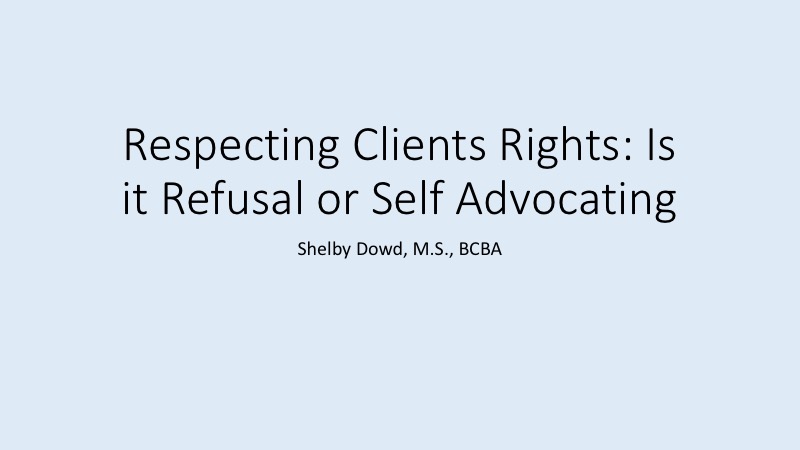 Course Outline
Respecting Clients Rights: Is it Refusal or Self Advocating
Title Of Event: Respecting Clients Rights: Is it Refusal or Self Advocating.
Date and Location of Event: Self Paced online course
Time and Duration: 25 minutes
Number of CEUs: 0.5
Attendance Procedure: All attendees must interact with course content, view all course content including quizzes and complete an end of course test scoring an 80% or higher in order to receive the CEU.
Event Fee: $8.00 per person
Instructor: Shelby Dowd, M.S., BCBA
Event Covers the Following Behavior Analysis Content: Practice and Ethics
Event Designed for BCaBA and BCBA
Event Level: Basic
Learning Objective for Participants
Review socially significate behaviors.
Review the ethical rights of the client.
Pinpoint what behaviors are refusal.
Pinpoint what behaviors are self advocating.
Pinpoint the effects of treating self advocating as refusal in ABA.
Learn how treating some refusal behaviors negatively effect the client.
References
Baer, D.M., Wolf M.M., and Risley, T.(1968)Current dimensions of applied behavior analysis.Journal of Applied Behavior Analysis, 1, 91-97.
Lee, A..(2020) The Importance of Self-Advocacy for Kids Who Learn and Think Differently.